JS TIPPER HIRE
Look no further than JS Tipper Hire where you get the best lorries, the best drivers and the best service experience. All at very competitive rates. Several factors make JS Tipper Hire your best choice go-to place for lorry needs: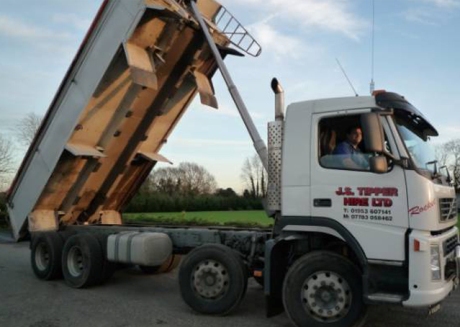 Powerful Fleet
Our fleet has several 8 wheel, 30/32 tonne tipper lorries plus many full tarmac spec lorries with fully insulated bodies and chutes.

Best Drivers
All J.S.Tipper Hire drivers are trained professionals who know how to offer the highest level of competent and courteous service. Our regular driver trainings ensure continuous and maximum compliance with changing Health & Safety regulations.

Multiple Hire Options
You have the option of choosing daily hire or long term rentals; whichever mode suits your needs and preferences more
Well Maintained Lorries
The entire fleet of J.S.Tipper Hire lorries is maintained to the highest standards. Plus, all our lorries are fitted with fully automatic roll over sheets to further improve the safe carriage of loose materials
Centralised Operations
All J.S. Tipper Hire lorries are equipped with state-of-the-art tracking systems. Our hands on management allocates work from our control centre using the latest mapping software.

Multiple Earthmoving Capabilities
We offer all types of earthmoving – tarmac, asphalt, and supplying a wide range of aggregates such as sand, gravel, stone and crushed asphalt etc..

Efficient Service, Cost Effective Rates
With us, you get the assurance of quality service at rates that you can't say no to.
We are fully geared to meet your lorry hire requirements in the entire East Anglia region.